Dad sent me this picture. I was having some trouble with my email server, so he emailed it to my blog account under the heading "Gun Death" Chickadee. Dad's a funny guy!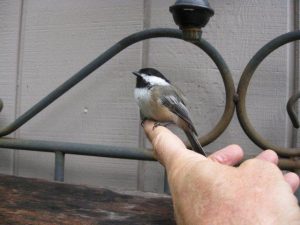 Now the Black Cap Chickadee is well known to have little fear of humans, despite being bite-sized, and relatively slow fliers. They can be easily tamed if one has the inclination. I remember going to a small amusement park in New Hampshire as a kid, and one of the workers passed the time by feeding the chickadees, and could even get the little guys to snatch sunflower seeds from between his lips!
Still Dad took the easy way to tame this guy. He let him knock himself silly against a picture window, and then picked him up to see if he was OK. Once he came to, he found that Dad's finger was the place to be, and Dad had to actually pick him up and place him at the bird feeder so he could go about his day.
Good times!