So you've all been listening to The Squirrel Report, right? You may have noticed I've been mentioned as a host, but absent for the first three episodes. Yeah, First one I was up on Wally's roof for 13 straight hours, and was fast asleep before the show even started at my Parent's house in Maine. Second Show I was driving to Virginia with my family, and the third I was driving back.
Well the Fourth I'm in like Flynn! So Breda and Alan think because I've been missing out I will need to grovel, so grovel I will. Also they were talking about an Act of Contrition. Well I decided in name of the podcast, I'd get a little ink done: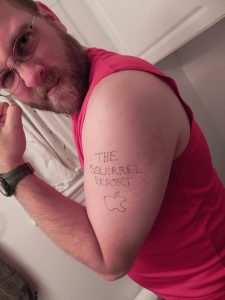 Yeah that's an Apple Logo. Why? Because I'm a pretty girl, and wear ribbons in my hair, and I want to kiss all the boys! Apple is better than PC, and Droid phones Suck!
Did they say Contrition, or Attrition?
Show notes are here, and the show can be listened to live on the website starting at 9:30 EST! Make sure to listen for the call-in number, and join us on our topics!
ITS THE SQUIRREL REPORT!!!