So here is a VERY interesting drink: the Mai Tai!
Originally created by a Bartender for Trader Vic in 1944, and likely reverse engineered by many restaurants during the height of the Tiki Bar craze. Because of this there are literally PAGES of Mai Tai Recipies
Here are a few from Robert Hess:

Same dude, and it seems over time has drastically changed his Mai Tai recipe.
Now having read the recipes, I started experimenting on a Rum cocktail that would be similar to a Mai Tai, but not necessarily that drink.
Upon completion, I was VERY pleased with the final product, so I decided to search the ingredients….and found what I was making was indeed a Mai Tai:
Note that while all these drinks taste different, they all taste like a Mai Tai. I've done several recipes, and I rather like mine the best, and it's still yet a little different. Here's the recipe.
4 parts White Rum
1 Parts Amaretto
1 Parts Blue Curacao
0.5 Parts Lime Juice
0.5 Parts Rose Water
Dash Angostura Bitters.
Garnish with Preserved Lemon chunks on skewer
So I'm a little different than even that last. First Robert Hess bags on blue drinks, but I REALLY like the color blue in a drink, and given how well blue Curacao pairs with other spirits (specifically gin) I use it a lot in my bar. I also use Angostura Bitters and rose water to give the cocktail some exotic fragrance. Also the Rose Water has some alkali bitterness to it which I think keeps the drink from being overpoweringly sweet.
Also the preserved lemons pair well with the lime juice and curacao, and add a salty note to the drink which I also prefer. If I can bring one thing to the cocktail world, it should be use of preserved lemons (being lemons pickled in a salt brine) used as a garnish.
Also since ice lowers the vapor pressure of a liquid, as well as floats above the surface of the drink, lowering the surface area of your cocktail as you sip, I prefer to shake my drink vigorously and strain into a chilled cocktail glass.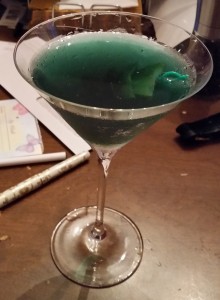 The photo doesn't do it justice, the Curacao and the Amaretto really combine to make an amazingly rich color, and I find mine better suits my pallet which is not fond of very sweet drinks.
Enjoy!