"Grinds Your Gears"?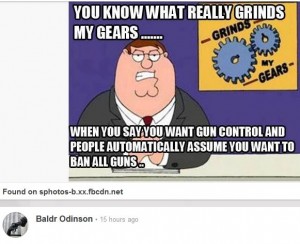 So I screen capped this so we could see that I grabbed this from Jason "Baldr" Kilgore of Ceasfire Oregon. Look, I've met a few people who don't like guns, and would rather there be more laws in place, who AREN'T interested in banning guns. They are few and far between. Now there is a HUGE contingency that doesn't want to ban ALL GUNS, they often talk about "Sporting" and "Hunting", and maybe make comparisons to places like Canada, the UK, and Australia (tho oddly never South Africa, China, or Russia….). They don't want to ban ALL Guns….just, you know, MOST guns. Is that somehow supposed to make you seem like LESS of a threat to our rights?
Now I'll point out Jason is NONE of these things, he wants to ban ALL guns, as do most of the major players in the anti-gun lobby. People like Michael Bloomberg will still want to be able to keep the bodyguards for himself and his retainers, but "little people" shouldn't have guns at all, for any reason.
So yeah, be they hardcore banners, or just "moderate" banners, they're banners, and if they don't like being called that…well I don't care how they feel, because I care about my rights and my safety!