A Coworker of mine was on vacation in Colorado last week. I just so happened he was on the steps of the capital on Sunday at exactly 4:20pm Local time. He snapped a picture of the marijuana festival at that time!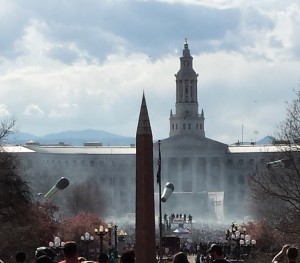 Man, I know in slang that's a "Grass Fire", but I've seen grass fires in fields that needed fire intervention that didn't make that much smoke!
Interestingly, there were a few cops around, and while they noted that the venue was not approved to allow public smoking the cops admitted that dealing with the local potheads were much easier than dealing with drunks after last call.