Neat Meme from Og.
Take the knife out of your pocket and take a picture of it, and post it.
North did it, so Me too.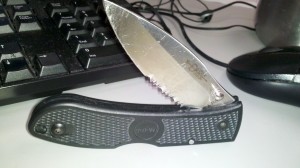 Actually not one of my favorite EDC knife. Its a Bob Dozier Ka-Bar Folder. Its slow to deploy, uses a lockback lock that I'm not a fan of, and has a combo edge which I also don't care for.
Still its a rugged, light, and quality knife. I wouldn't carry it if it wasn't. Also these knives can be had for SHORT money, I bought a shitload of them at the NRA show for the amazing price of 5 for $40!
If I lose it, I won't cry. If I do something stupid with it and chip the blade, I have more. I'm in a goofy place where a 4″ pocket knife is something bothersome, I can toss it in the trash without flinching.
All that and its everything you need in a knife. And you can tell by how beat and filthy it is that I do use it all the time.
What's in your pocket?
**UPDATE** Alan wonders why I only carry ONE knife. Oops, I forgot about this one: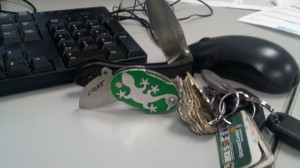 CRKT Gekkota. It also has a bottle opener, and a screwdriver, as well as the little blade. Also this piece has been riding in my pocket attached to my keys for over a year-and-a-half, and besides a few dents and scratches it still looks scary good. A CRKT rep says the metallic powder coat on the body is protected with an epoxy coat so it still looks brand new despite some of the worst abuse possible.
Two is one, one is none!