Power went out this morning. Wanna know why?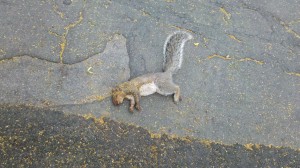 Little dude decided to short the transformer. Knocked power out on my whole street.
I of course did the red-blooded American thing and went outside and poked him with a stick. Oddly enough the wife doesn't seem to understand that dead animals and fire pits are two things that need CONSTANT poking with sticks, and I'm one of those good people who is willing to shoulder more than my fair share of the labor.
He actually looks pretty good, all things considered. We had a finch do the same thing last year and it had a strip of feathers blown off and a gaping hole in its neck. The squirrel appears to have severe burns on both paws, snout, and a dab on the chest. Not sure if he got a cross-chest arc, or just generated enough heat through electrical resistance that he flash-fried his brain. Either way he likely was dead before he hit the ground.
The power guy had to tinker with our pole as well as the one at the end of the street.
Neighbor was cooking breakfast and she was pissed that her electric stove had gone cold!
RESIST THE POWER!!!!