I'll start with a quote from Linoge found here:
All "gun control" extremists have their irony meter removed upon conversion. Cult policy.
OK so we've talked about Joyce Foundation shill, and troll Jason Kilgore and his feelings on Martial Arts. The Operative quote was:
@ Bob: Not with a gun…I and my son are students of kung fu, and my wife practices haganah. We are all still relatively new to these martial arts, but its a start at self protection. Not as lethal as a gun, but you can't accidentally beat yourself to death.
Well Jason has this up on his facebook page: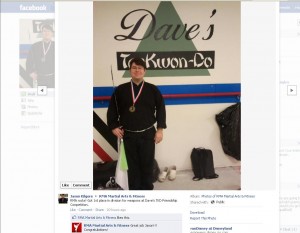 Seems Jason is pretty slick with a sword! He's so proud of this it's currently his profile picture.
Don't see a lot of swords around these days. One reason is many places restrict the carry of them. Another big reason is they're really good for only one thing, killing. Back in the day swords in a similar design to his were issued to ARMIES! Of course the Chinese also were masters of the Bow, but any avid bow hunter will point out that bows and arrows will put some serious meat on the table. I know a lot of shotgun hunters, a ton of rifle hunters, even a few handgun hunters. Know no sword hunters. To be fair I do KNOW OF some people who will hunt wild hogs with swords, daggers, knives, and spears, still most people prefer guns for piggies.
Swords are brutal weapons, inflicting serious and mortal wounds and capable of removing limbs. Heck I've reported several recent "Gun Death" stories where a sword was the murder weapon used. Jason Said: "but its a start at self protection. Not as lethal as a gun, but you can't accidentally beat yourself to death." That story suddenly changes when a sword is introduced, it's kinda hard to chop somebody up "Just a little bit".
BTW there are some interesting philosophies at his Dojo's website. The beginner's creeds are pretty basic good-citizenship statements. But at the higher levels there are these:
RED
I am not learning how to fight here, I am learning how to learn, and how to defend. If I am ever forced to defend myself, I will defend to win.

Red/Black

I know that what someone says does not make it so. I will not let words, good or bad, dictate my actions because I have nothing to prove to anyone. If I am descended upon, I merely have to move or go around the aggression. If they block my way, I have no choice but to go through it.
Hmm, Defense not aggression, and turning away from insults rather than reacting in violence, and avoiding confrontation unless there is no other choice, and when there is no other choice "defend to win".
Doesn't sound too different than Col Coopers Principals of Personal Defense. Also to as an anti-rights advocate "I know that what someone says does not make it so." Takes on an extra level of irony, given that most of the "Support" for anti-rights principals is often based on their say-so and that alone.
So to tie it in, when anti-rights people use deadly weapons and skills for self-defense or for fun it's just for fun, while if people use GUNS specifically (Remember, "Guns are different because they are different!") its dangerous and violent, and they are future murderers.
Also note that Jason was doing all he could to push the CSGV "outing" article, but got upset when people discovered he was using both his real name and his screen name as a sockpuppet.
You see Freedom Loving people have standards which is good, anti-freedom people have DOUBLE standards which must be TWICE as good, right?
In closing, be careful with that thing Jason, its dangerous, and I hope you lock it up when you get home, lest the kids hurt themselves! Oh and swords aren't any more dangerous than kitchen knives…you lock those up too, right?