Back in the 90s it looked like the Brady Campaign was the group that was going to destroy that pesky 2nd Amendment, and ban all privately held guns…or at least reduced us to the academic gun ownership of places like England.
And then there's today: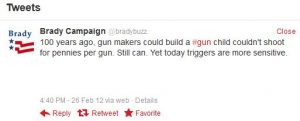 Huhhh??? Lemme quote it to see if it makes more sense on the page…
100 years ago, gun makers could build a #gun child couldn't shoot for pennies per gun. Still can. Yet today triggers are more sensitive.
Huhhh???
Are they implying that guns were safer in the past? Is this one of those Rainman situations where "100 Years Ago" is the dark ages where "Guns" were Ancient Matchlocks that while were VERY easy for the person of the day to learn how to shoot, today's Antis can't change the oil in their cars, or defragment the hard drive on their computer, so they assume it takes some sort of crazy super soldier to prime and fire.
But 100 years ago was 1912. Colt was Making revolvers not too different from the ones made today and the M1911 Pistol not too different from the one I carry today, I will note that the Colt's today have a Series 80 Firing Pin block system which is considered "Safer" but I have my doubts.
Maybe they're talking about the double-trigger on GLOCK type pistols that first must be unlocked with the finger (by pressing the inner shoe) then used to retract the striker assembly to its full extension, then release the firing pin block THEN drop the striker….
You know, I think I'm over thinking this. Whoever wrote this is clinically insane and knows NOTHING about either history, or firearms, and this person was given the keys to the Brady Campaign twitter account.
Can you fathom how bizarre and messed up that is?
These were the big guys…now they're on the same level as forum trolls.