So we found some home invaders last night. Ants. Not fully sure what species they are: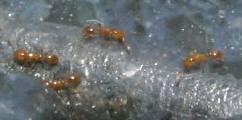 I suspect they are Pharoh Ants tho the abdomens don't seem to have the stripes, but that could just be because these fuckers are damn tiny and the BEST look I've had of them is the above images which were taken with my camera's macro lens then cropped. Still the body morphology looks about right, especially with the segmented nation of the connection between the abdomen and thorax segments.
They don't respond at all to cayenne pepper, and don't seem to be interested in ant traps. We sprayed some stuff down that should collect on their bodies and poison the nest, but if that also doesn't work, anybody have any idea if these are indeed pharaoh ants, and how best to deal with them?
Our next trick might be a mixture of sugar water and borax as another systemic poison that they'll take home with them.
Oh and after Mrs. Weer'd freaking out about them (she does NOT like critters sharing domestic living space with her) I felt a strong urge to watch this on Netflix Instant View:

According to Hollywood of the 1950s Ants can be killed by judicious aplication of .45 ACP from a M1A1 Thompson
I might try that if the other stuff doesn't work…