Seems I hear a lot of talk about shoulder holsters, and not much of it good. Common complaints are:
-Uncomfortable
-Hard to Hide
-Limited to certain wardrobes.
I have some older pictures that I never used in a post, and I'm away on vaction and syndicating posts, so why not fire this up. Pixs and review below the break.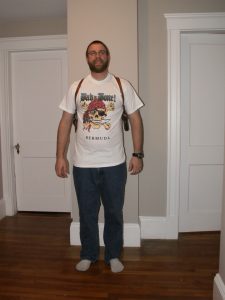 So here's your humble host in pretty much 4-season wear. T-shirt, Jeans. Sometimes subsitute shorts for Jeans, or maybe cargo pants, but that's all seasons for me. Note the lack of belts. This was the #1 reason why I was interested in shoulder carry. Belts, I HATE them they aren't comfortable to me, and I find the belt always slips above my pants and rubs on my skin. So lets look at the hardware: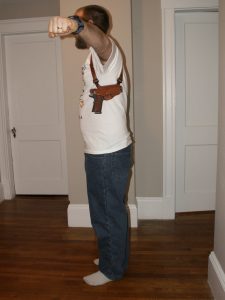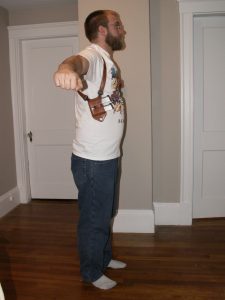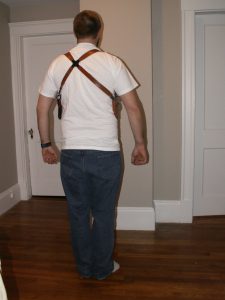 So there's the shoulder system, its a Galco Miami Classic II, and yes its a direct descendant of the holster from That 80s cop show, while nit a Miami Vice fan, I have always been a Noir Detective, and cop flic fan, where similar holsters get shown, so I think it DOES look kinda cool. Not really relevant as I'll show you how to hide it.
First up one down side of this holster is it has a LOT of hardware. You have the crossed straps across your back, and your mag carrier and gun. If you hug somebody they will most likely feel part of your holster. Thankfully in a world of personal space and sexual harassment this isn't a huge issue, and most people who hug me on a regular basis not only know I'm a proponent of shoulder carry so if they feel the holster it isn't much of a surprise.
Some good things are this holster is COMFORTABLE. I have no idea why some people complain, but the guns and magazines ride so comfortable, and the weight is evenly distributed. Also unlike belt carry the gun isn't attached to your clothing, so it doesn't pull or mess with your outfit. I routinely wear this rig for more then 12 hours with no ill effects. Its also great if you spend time seated or driving.
One speculation about discomfort is maybe your gun's width. The holster keeps the gun tight to your body. In my holster is my 1911 Commander, and I put slim grips on it, and I found this made the gun MUCH more comfortable, so maybe a wide gun like an XD, M&P, or Glock might dig into your ribs a little.
Moving on, let's hide this thing. First thing before we get to a garment, I'll point out a phenomenon I noticed from myself.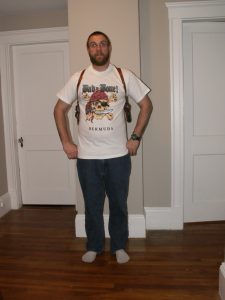 I call this the "Duck Wings", its odd feeling something just under your arms so you might feel the urge to cock your elbows out so your arms don't touch your gun. Just tuck them in, it'll hide the gun better, and you won't look strange!
So since its August, lets start with what I wear in the winter time!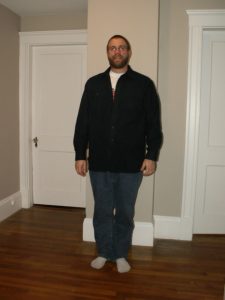 This is your standard issue button-down flanel shirt. These things hide the Gun VERY well. This is no elaborate blazer or even a heavy shirt. You just need to know what to avoid.
First up this system works best with an access hole. I generally button the bottom two buttons, or zip up a sweatshirt to just below my ribs. This keeps the garment from flying open and revealing your gun but still allows you a natural draw. Depending on your body size this may not be necessary, as you can always lift up your garment from the waist and draw as if from a high-rise belt-holster.
When picking a garment you want something with a SQUARE wast. Tapered waists will simply pull cloth tight RIGHT over your gun making you print.
The important factor for fabric is not thickness as much as STIFFNESS. Stretchy fabric will want to conform to your gun, making weird shapes show up on your body. Flannel, cotton, canvas, denim (for that complete 80s look!) leather all work very well. And remember


YOU ARE NOT A DUCK!
But what about when its warm?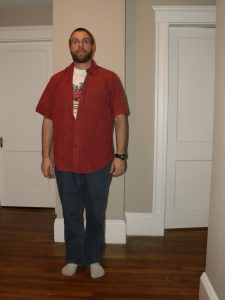 Cotton button-down short-sleeve shirts, or Hawaiian shirts work just great, but again remember to have a square waist, and use stiff fabrics like cotton or linen. You might want to buy the shirt a hair bigger for you to give you a little more concealment.
The lighter shirts don't conceal nearly as well….but have a look: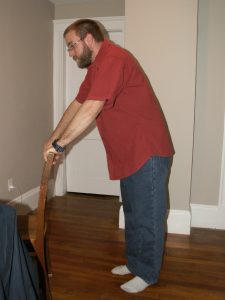 This is me attempting to print, and you can see the gun a little bit, but frankly I was disappointed at how poorly my gun printed in the pictures….then I realized this was a GOOD thing.
And again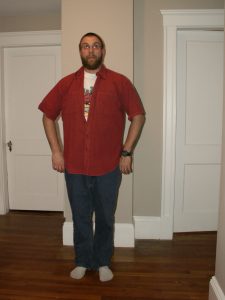 YOU ARE NOT A DUCK!
Again this is a 1911 commander, hardly a little gun, also unlike vertical belt carry you only have to worry about concealing the length of your gun (ie Barrel and slide) not the height (grip) so I get a full-size 1911 grip, plus a magazine with a bumper-pad. Happens to be my body conceals the 4.25″ barrel very well, tho a 4″ barrel like Kimber makes their "Commander" or something like a Kahr TP45, and of course the ubiquitous Glock 19 would hide a bit better. There are HUGE numbers of guns in this size, also if you're a bit smaller than me, a smaller gun like a PPK, or a Glock 30, or a Colt Officer ACP might work a LOT better. If you happen to be a little chunky you'll have a little more body to hide the gun on. Also women with larger breasts I imagine could hide the gun rather well in the shadow of their breasts. Of course if your bust is very large it might hinder your cross-draw.
As for draw, I must say This technique works AWESOME! Simply place your left hand on your right shoulder, and turn your shoulder towards your threat. this opens your coat and rotates the holster to your hand. Get a firm grip on the gun, hit the thumb break, and pull it across your chest as you bring your support hand down to grip. This also keeps your support arm from getting muzzled. Its hardly strong-side belt draw fast, but you can get very quick with it, but you do need to practice, as with any carry method.
One other advantage to this carry method is you can shield your carry gun without looking strange. Simply bring your arm down to your side and its damn near impossible for somebody to bump or rub your holster or mag carrier. This works great when I ride the subway when you're packed in like sardines.
So there's a brief overview of my favorite method of carry, hopefully it'll help you find a nice way to carry your piece!