Seems a bunch of cool kids are dropping some hate on the Taurus Judge First up look at that video! Essentially Taurus came up with and answer, and then threw their marketing department with all its money at finding a question. First up I specifically want to throw up a picture I took at the NRA convention to SPECIFICALLY enumerate my dislike of the gun: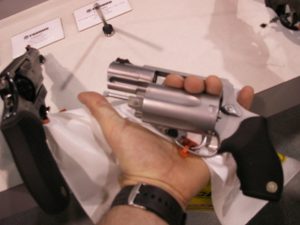 Look at the SIZE of that cylinder! My hands are NOT small, and this gun is completely freakish in proportions. Its essentially a compact revolver that Taurus stretched like a limo to accommodate the .410 shot shell.
OK let's talk about shot shells for a second. Most people don't realize (or think about) this, but there is no "Cumulative effect" of shot shells, they are essentially an equivalent of a burst fire from a full-auto weapon of an odd caliber. Overall the ordinance coming out of the business end of a shot gun are not impressive, but they make up for their ballistic inferiority with volume. See a #00 Buckshot pellet is only about .33 Caliber, and being a sphere doesn't weigh much at all, but it makes up for it that fired from a standard 12 gauge load there are nine of them, so the chances of getting a single vital hit are good, and multiple vital hits are decent. The smaller the shell, the less pellets you can fit in it…with .410 you get….3 #00 in the 2.75″ shells. Add in the odd pattern created by a shot cup spinning down the rifling and you have a ballistic nightmare.
Honestly I HATE .410, and I don't see the point of it outside of a specific tool to skirt stupid hunting laws (you know like the law that says you can't hunt with a .30-06 rifle…but a 12 gauge with a rifled slug barrel, a scope, and shooting a .30 Caliber saboted slug) but overall I feel the .410 doesn't accomplish much, and a shooter would be much better off shouldering a 20 gauge.
And that's talking .410 out of a shotgun, not a snub-nosed wheel-gun that's the size of a 5″ 1911! And to add insult to injury, the Judge can eat .45 Colt shells which is an AWESOME revolver load…but to put than monstrous cylinder on it?
So my point is if the frame and cylinder is cut down to accept .45 colt we have an interesting gun….interesting, but not GOOD if you still have that famous Taurus trigger pull that is often described using terms like "dragging a Piano" and "Down a Dirt Road".
Such a shitty gun, and I hate them!