My last gun post was Lame. Caleb Has a post up that's a better explanation of the same video which makes sense as he's the dude in the vid. Still this quote goes very well with some of the stuff talked about.
Dance with the one who brung ya. I'm shooting a 1911 in that video. The last time I shot a 1911 in competition? July 12, 2009. Over a year ago. Since then I've shot only striker fired guns and revolvers in competition.
There are two reasons why I carry a 1911.
#1. While the 1911 isn't the best gun in the world, and there are plenty of guns that are as good as a nice 1911 for carry, in my opinion there is no BETTER gun. (Whenever I think of switching to a different primary carry gun one big thing that stops me is "But you already have a nice 1911 Commander…) Why spend money on holster, magazines, and training when what you have works just fine?
#2. The 1911 was the gun that got me into shooting, and its a very popular platform. That means that even BEFORE I bought my first gun I had run more rounds through a 1911 and handled more 1911s than any other gun. Also because of this when I finally decided to GET my first gun, it was a 1911 (The Stainless S&W Government model I wrote about before) so when I was determined to get the restriction dropped from my permit (My first LTC was "Target and Hunting Only" because I lived in an unfriendly town to gun owners) I bought a S&W1911Sc as soon as I found one for a decent price.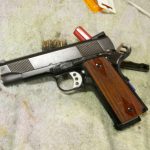 So while a 1911 has superfluous safeties which can be failure points, I've shot these damn guns so often that if something fails on my 1911 its because of parts breakage, not because I didn't do my part.