Back home in Massachusetts. Kinda creepy how a loss of freedom feels so good. I won't be able to open carry now, but I'll be sleeping in my own bed and I'm home with my lovely wife.
Still again the convention was a blast! Sad to see it over.
In closing here's a shitload of knives that I bought at the convention: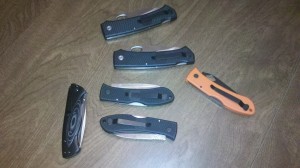 Gonna be doing reviews on most of them!
But that's later. Sleep and laundry now!