Running down the lines on the photos I've taken at the NRA Convention. Of course we've all seen the Remington R1 1911 pistol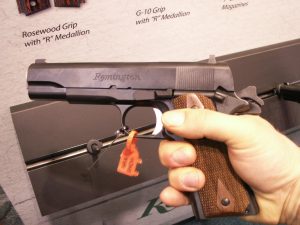 A nifty "mil Spec" 1911 for a reasonable price. I've never shot one, nor seen an endurance challenge to see how it holds up to extended shooting and abuse. But certainly the models I've handled felt tight and solid. Also an interesting thing is they deviated from the "Military Spec" pattern when it came to the sights.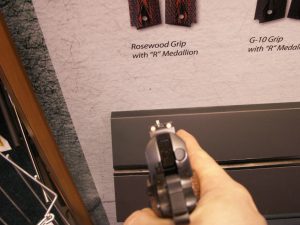 Rather than the skinny hard-to-see military sights this gun has 3-dot wide sights of a more modern pedigree.
As much as I love 1911s, I'm NOT a purist the M1911, and M1911A1 platforms feel as antiquated in my hands as any other handgun from that time that since hasn't gone on to wide-spread production. Instead I prefer "updated" versions with big sights, swept beaver tails, extended thumb safeties, skeletonized triggers, and loop hammers. Seems Remington knows me: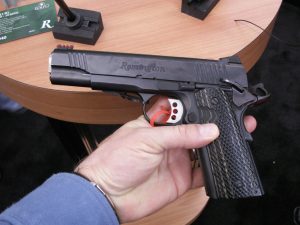 That's the Remington R1 Enhanced Updated in almost every way. I will also note that it does NOT have the full-length guide rod, nor ambidextrous safeties that I don't prefer. Very nice gun.