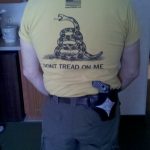 Jay wearing the Snubbie-from-hell in a Dragon Leatherworks python skin flatjack
With brand new matching VZ Grips.
All topped off with a Gadsden Flag shirt. (Oh, I Just noticed Dennis of Dragon Leatherworks with his Desert Eagle 1911 in a Python Skin Talon with the optional Belt Tunnels click to see it in the enlarged image)
Stylin! I've chosen to conceal carry this weekend for my physical comfort, and general comfort as I generally don't belt carry and the convention center is REALLY crowded.