This vacation was AWESOME, and we covered a HUGE amount of the country, so the best way to do my rundown is to just bounce around our various destinations and post pictures. I'm not much of a shutter bug, and unfortunately we visited a nation mostly filled with rainforest during their rainy season, so a few times I would have LIKED my camera, but was glad it wasn't getting soaked in the rain. (BTW don't let that fool you, the weather was AWESOME! While it rained every day, and humidity was upwards of 80% it only rained for a few hours every day, and long rains were confined to the late night and early morning, and the temperatures rarely crested much into the 80s, so once you acclimate to the tropical climate, it was VERY comfortable, and the humidity and rain meant the you rarely had to deal with intense sun which would have made things uncomfortable).
OK so let's hit the page break and talk about the various days and post lots of pictures.

So we flew into San Jose. We spent the least time here, as it was just our staging area in and out of the country. Essentially we flew in in the late afternoon, had dinner, went to bed and left FIRST thing in the morning (as in 4am) for our first real destination. Our return to San Jose was again in the evening and another early departure for the airport.
So first some traveling facts. The flights were fairly short. We flew into Miami, and then directly to San Jose. We spent just under 6 hours in the air, so for such a drastic change in climate and location it was a really easy flight. One REALLY strange thing to me about Costa Rica is its on the same time zone as the rest of Central America. Our Traveling companions were from Charlotte NC, and San Jose is only a few miles east of their longitude, but the time was two hours behind. This means its light at 4am, and gets dark around 6pm)
As I said we didn't see much of San Jose, but its the biggest city in the country, and that really says how rural the nation is. The buildings are mostly small, and there are still large swaths of jungle everywhere.
So our first stop after we left San Jose was just what could be described as a "Diner" in the middle of the countryside. We had some good breakfast (I'll just save time and say that the native food of Costa Rica is AWESOME! Lots of fresh fruit, lots of rice and beans, and lots of plantains, time of day not important! If you don't like this stuff, I guess the food sucks, but I do like this stuff so it was good eating. My only complaints on food were the few times we ate in places that were catering to American Tourists by attempting to make American food…yeah fail!) and they had a butterfly tent!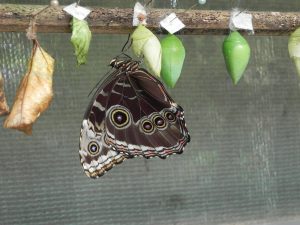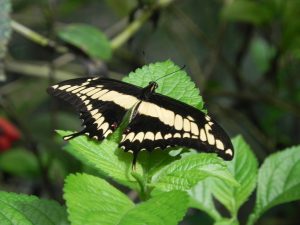 (got a million of them, I'll spare you)
Also didn't get a picture but this section of Costa Rica is loaded with Rambutan, so I decided to buy a pound of them for the princely sum for $2. They are similar to Lychees but not quite as sweet, and the fruit clings to the stone making them a little messy to eat. Still the pound didn't last long for me.
On the road the guide pulled the van over when he spotted a sloth feeding in a tree: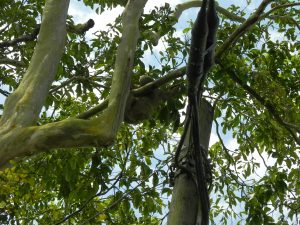 He was happily having his lunch. I didn't get to pat him, and sadly this was the only sloth sighting of the trip.
So we finished our road leg off at a little river outpost in what the natives call a "Canal" which is really just a large creek or small river though the jungle which took us to our destination in Tortuguero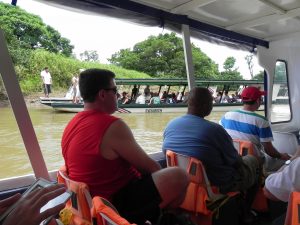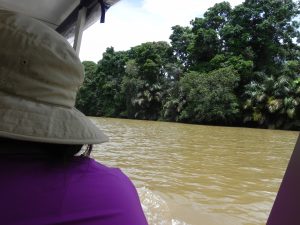 Judging by the construction of the boats and the noises the props were making (ie sucking mud from the bottom) we were generally in 3-5 feet of water for most of ride. It had a great "Heart of Darkness" sort of feel. And there were crocs!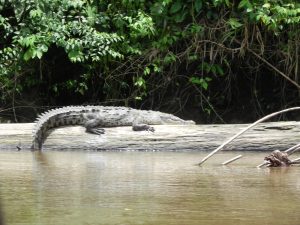 Another neat critter was this MONSTER Millipede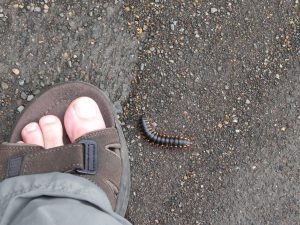 Oh and we saw LOTS of cows, I grabbed a shot of these Brahmans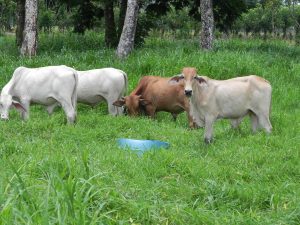 They also have Zebu and a few more pedestrian cows.
I didn't get a ton of pictures in Tortuguero because A) It was raining on our Rain Forrest tour so I didn't bring the camera. And when I was running around the resort I was too ADD to think about the camera, and spend all my time LOOKING at the critters.
Got this toucan: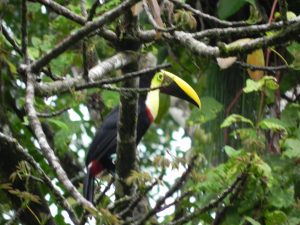 And these puffer-type fish playing in the river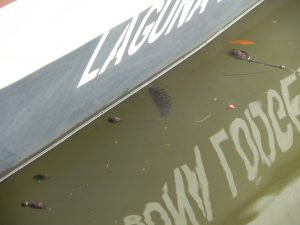 Our next stop was Mount Arenal which is an active volcano. Here's our cabin there: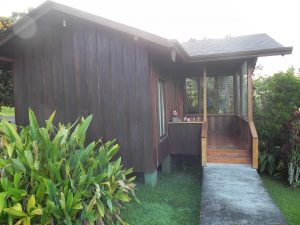 The cabin number? You might be a gun nut if….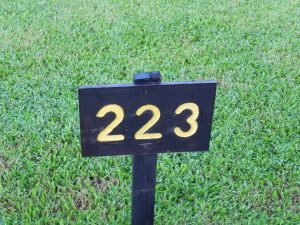 And the view from Said Porch?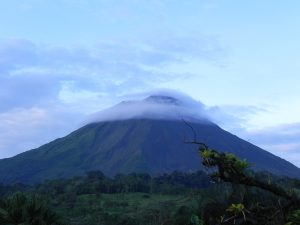 Super cool!
So yeah we hit up the hot springs around the volcano, I hiked it (and left my camera at home because it was threatening rain), we were only allowed to go up to the top of a lava flow well below the summit.
And of course the big event happened as we were leaving Arenal, there was an earthquake. We were a good distance from the Epicenter, and we were on the road. I'll just say the driver pulled over when the road started to shake, and Mrs. Weer'd didn't realize we had stopped as the van was just bouncing like it was on the rough roads. We first thought the volcano might have been erupting, and we saw a bunch of rock slides going down the mountain.
Aftermath of the quake experienced by us wasn't much. There were a few rock/mudslides on the road, but nothing was blocked. Our Hotel was the El Diria of Tamarindo is a complex of buildings. The room we had reserved was in a building that had been damaged so we were upgraded to Ocean-front: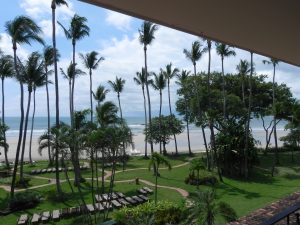 Shit deal, huh? Well check in was a bit dodgy as the key card maker was buggered, so we were given our rooms, but if we left we'd be locked out. We ventured out for food, and found that most of the restaurants were under-staffed, so they weren't cooking much food, so our pickings were slim. Still a nice room, and no serious after-shocks, so all good.
We then shipped out on a Catamaran for some drinking, snorkeling, drinking, tour, and sunset…and drinking.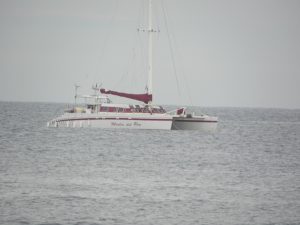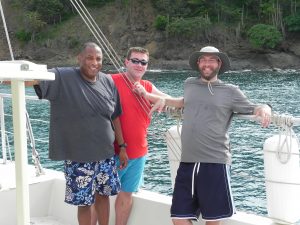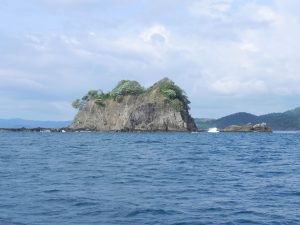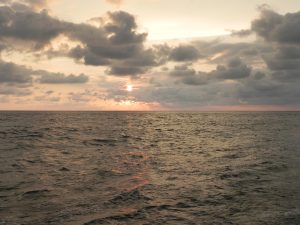 Neat sights were fresh slides from the quake: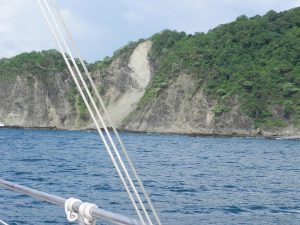 Cactus in a rainy environment!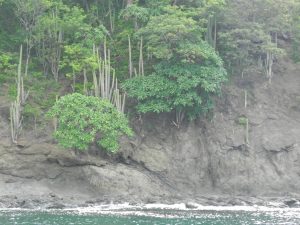 And we saw a bunch of Humback Whales (sorry for the bad shot)

Back on land I saw this guy: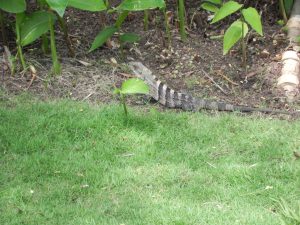 And for fans of the Squirrel Report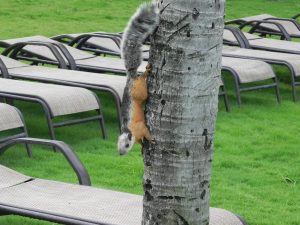 That's a Variegated Squirrel!
Yeah well that's the gist of the vacation, I have a ton more pictures that I can tap into. So I'll just leave you with a sunset over the Pacific: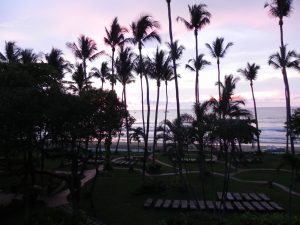 Had a lot of fun, but I'm glad to be home!