A Swedish man undergoing surgery died on the operating table after the anesthesiologist and a nurse went to lunch during the procedure, The Local reported.

The 72-year-old man was having a tumor removed at a hospital in Lidköping, Sweden, and had gone under anesthesia at 10:45 a.m. According to The Local, the head anesthesiologist then left at noon for lunch, followed by the head nurse anesthesiologist fifteen minutes later.
Now my experience with surgery is with rodents, which you simply don't get the staff human surgery warrants. Sometimes you're lucky enough to get a helper, but most often you're going solo. One of the trickiest thing focusing on the job at hand AND taking a moment to make sure the anesthesia is doing what its supposed to do. Too light the animal could wake up, and possibly die, too heavy and they stop breathing.
Many people are surprised that the Anesthesiologist is actually the doctor in the OR that has the highest malpractice insurance, because independent of the perils of the operation, the anesthetics administered can be deadly if not properly monitored. When I first read the title I wondered if it was a more honest mistake, like the doctor finished the procedure, and had a nurse or tech suture up the incision, when something went wrong. Nope, the damn doctor who was monitoring the patients drug levels and vitals WENT TO DAMN LUNCH!!
And this is in a nation with socialized healthcare.
Hey, but no guns! No "gun death"! Just look the other way please!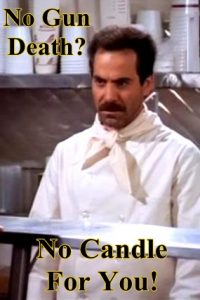 h/t Wallphone