When Bluesun made my banner he had NO idea of my LOVE for baby waterfowl. Yeah, they're awesome. Sadly I didn't have my good camera when I went for a walk today, so you have this crappy shot.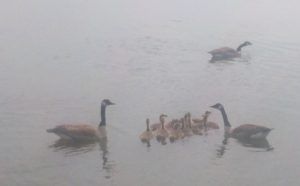 It does not do the fluff any justice, but trust me, the Fluff was EPIC!
Its pouring out right now, but I'll see what I can do to get some good shots before these guys disappear. Its for the good of the town that all nests that are found are sabotaged, and all babies that hatch are rounded up for an end I can only assume. I don't disagree with it, but I don't have to like it right now.
Hopefully more pix in the coming days!