Some Junk Science via Mrs. Weer'd
According to a study published in the latest issue of Pediatrics, twenty-somethings born preterm (before 37 weeks) are less likely to move in with a romantic partner or have sexual intercourse than their peers born even one week later.

Researchers found that those who were born early or late preterm were also less likely to find themselves attractive, and more likely to still live with their parents. The findings, which compared survey responses from 753 twenty-something adults born in Finland between 1985 and 1989, showed that preterm birth can have an adverse effect on social health, in addition to the more obvious physical effects.

Previous studies have found that individuals born preterm might be more cautious and less risk-taking than those born at full term, which might also be reflected in our findings of lower likelihood of romantic relations," says lead study author Dr. Tuija Mannisto, a researcher and fellow in clinical chemistry with the National Institute for Health and Welfare and the Northern Finland Laboratory Centre Nordlab in Oulu, Finland.
hmmm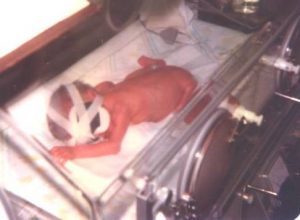 Man, I guess I'll die a virgin because that's me in that photo! Oh wait, I have a daughter, and I'm about to celebrate my 10th Wedding anniversary.
Also don't tell my co-podcaster Barron from the Gun Blog Variety Cast! I've seen pictures of his Wife! I bet she'd be surprised that because he was also a preemie that she doesn't exist!
Junk science! Why not just say the people of Finland are a bunch of 40 year old virgins?