So I went over to Vector Manor for dinner. I knew there was going to be grilled salmon as the main event, and I just thought Potato salad sounded like a good idea.
One problem, I don't much care for mayo. I'll abide a creamy potato salad or coleslaw, but I generally prefer the iterations without the mayo.
I know Mom makes a great one without mayo, so I called her, and asked where her recipe came from.
Turned out, unlike the bulk of her hits it wasn't from one the cast from The Food Network, but Marjorie Standish, so rather than cooking from my tablet, I actually hand copied down the recipe.
Start with 8 Medium sized potatoes peeled and diced (you can use fingerlings unpeeled, just use a LOT of them) and toss those into a pot of water to get cooking.
While those are cooking away, time to make the dressing.
You need 1/2 cup of oil. I used Olive oil, but you can use just about anything. My Mom uses vegetable oil.
3 tbs Vinegar: Again the sky's the limit. Mom uses apple cider, I used red wine, Balsamic might make for an interesting color and flavor….
2 tsp Salt (I did a tea spoon of Kosher, and a tea spoon of garlic salt)
Ground Black Pepper To taste
Cayenne Pepper to taste, I just used a few shakes, and I couldn't taste it at all, so it's all how wild you want to be.
1 tsp dry mustard
Chopped Herbs the cook book calls for parsley, I used thyme and chives
2Tbs finely chopped onion I was probably closer to 1/4 cup, in mine, I like onions, and I like the crunch they add
Mix all that up, and when the potatoes are done, just mix in the dressing while still warm and then toss it in the fridge to chill.
To finish it all off, I slice some hard boiled eggs over the top, and sprinkle them with paprika.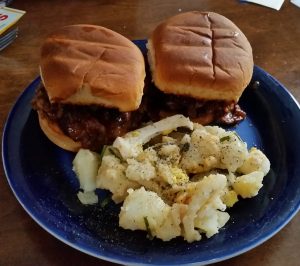 The last leftovers of the first batch with some pulled pork sliders! It was a huge hit!