This happened in my house, and I felt it necessary to share with you all!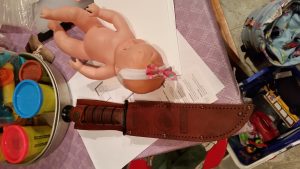 Was putting on my coat to go outside and cut up some boxes for the recycling bin, so I set my trusty Ka-Bar down….well when I went to pick it up I felt that needed to be shared with you.
FYI the baby doll does have clothes, but LaWeer'da made me strip them off before we took her to school on Friday for show-and-tell "Because it's too cold out".
This is my life!