Interesting story. What I find most interesting is not the METHOD of the death but the motivation.
Sri Lankan police say a man has died while trying to set a world record for the longest time spent buried alive.

Police say the 24-year-old man (Janaka Basnayake) buried himself Saturday morning with the help of family and friends in a trench sealed with wood and soil.

A local newspaper says the trench was 10 feet deep.

Police say when the man was brought to the surface 7 1/2 hours later, he was unconscious and taken to a hospital, where he was pronounced dead on arrival.

It's unclear whether there is an official world record for the longest time buried alive.
That last line is REALLY macabre!
Note that if this guy had tried to set a world record for "Most times shot with a gun, and survived", it would be a gun death and they'd consider a candlelight vigil. Meanwhile you asphyxiate under the soil….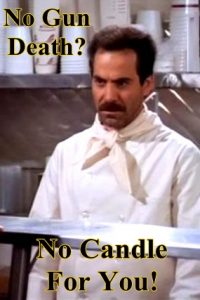 h/t Wallphone