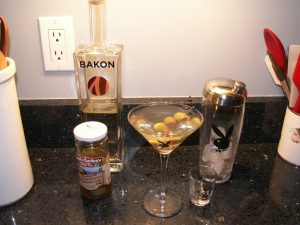 Yes that's Bakon Vodka (Gift from Uncle Jesse! Thanks Man!) mixed into a Bacontini (Dirty Vodka Martini with sun-dried tomato stuffed Olives) in a Playboy Martini Set.
As for the Vodka, I'm not terribly impressed, it SMELLS really good, but the flavor is very flat and there are a lot of bad vodka flavors in the vodka itself.
Still there are worse things you could drink
Down 'em up!!! Oi Oi Oi!!!