Joe found this post, and covered the tip of the bigot's hand to why he won't debate people who don't agree with him. I'll simply cover his Open Bigotry
We were browsing through the peach aisle when my wife urgently pulled me aside: "Did you see that guy?"

"What guy?" I craned my neck to peek around behind her.

"Don't look. He might shoot."

"Whaaaat?!" That really captured my attention. Sure enough, some corpulent 80-year-old a**hole was standing in front of the donut peaches, packing a pistol. Rosewood-checkered grip, tooled-leather holster, the whole bit. Not a law enforcement guy, just some retired jerkoff who evidently wanted to enhance the perceived size of his schlong.
Cue Robb Allen Icon!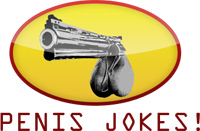 I mean not to mention the sick myopic nature that could only see one reason why an elderly gentleman might carry a gun…and of course call him every name in the book because of it. Just to solidify my point I browsed his other articles. Didn't take me long to find This one
But we really need to teach people how to drive more defensively. So how about replacing the airbag with a spike? If you run into something, no airbag. Instead, a huge, sharp spike pops out of the steering wheel.

We would instantly become a country of courteous drivers.

Well, perhaps not quite instantly.

It might take a couple of weeks for all the idiots to impale themselves.
Yep you get into a accident you're an "Idiot" and deserve to die.
Kinda reminds me of this:

For even more disturbing images check out the making-of video and the joy the children see in killing other for an ideology
We can't let their side win.