Reader Dev asks: "Can you do a post about pocket holsters? I am very interested as I know nothing about them."
No Problem, it's STUPID Simple.
Step One, get a small gun: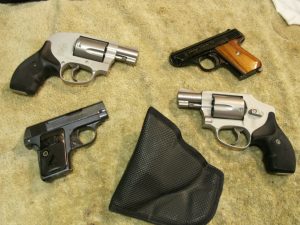 There are millions of choices from all sorts of price points. These are just the "Pocket Guns" I have. 2 .38 S&W J-frames (S&W 642, and a S&W 638) a Jennings J22, and a Colt 1908 Vest Pocket .25. There are all sorts of plastic-framed autos like Kel-Tecs, the RUGER LCP, and all sorts of other guns. I even think Kar's PM series of pistols are ideal for pocket carry. Some even consider the .380 "1911" guns good for pocket carry, but I would prefer a DAO gun rather than a cocked-and-locked pistol. (FYI both the Jennings and the Colt 1908 are SAO…but I also don't carry them)
When you find your preferred small gun, Step Two Get a holster for it. Two Worlds will serve you well DeSantis Nemesis They're cheap and they are AWESOME. A pocket holster does NOT need to be expensive or ultra-spesific. They need to perform 3 tasks. #1. Keep your trigger-guard free to prevent accidental discharges. #2. Keep pocket crud out of your gun. #3. Stay in your pocket when you draw.
The Nemisis does all of these, and does it for short money.
Step Three: Put gun in holster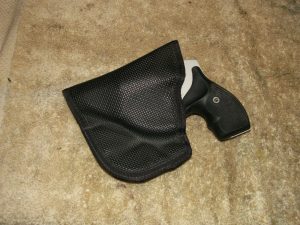 Step Four, put in pocket and go about your day. I'll defer to Jay for the demo

There's really nothing too it. You simply place gun and holster in your pocket. Grab the gun and pull, and holster drops into your pocket and gun comes out.
You simply need pockets big enough to carry your gun. I carry that j-frame in the front pockets of my Jeans whenever I'm not packing a 1911, or feel the need for a back-up-gun. I have some pants where the pocket is too shallow or narrow for pocket carry, it all depends on what gun and holster you picked. Pocket holsters print…but they're supposed to. People carry stuff in their pockets, pockets bulge. The holster should break up the outline of your gun so it doesn't LOOK like a gun.
So there it is, quick and dirty. Any questions?