So I was heading home from work and I heard a calling from the heavens.
I found myself Here and I happened to have a gift card in my pocket from my Mom-in-law, who used to be very anti-gun.
I decided to take the plunge. Look who came home with me!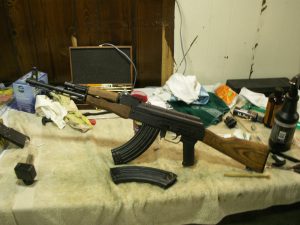 Yep, a Romanian WASR-10, Kalashnikov rifle. I won't lie, I'm not a huge fan of the Kalashnikov Automat. They're an ergonomic nightmare, they're ugly as sin, their loose fitting parts make them renown for mediocre accuracy, and frankly 7.62x39mm is one of the better intermediate rifle cartridges, and that's damning with faint praise.
Still, its one of the most common military rifles on earth, Mikhail Kalashnikov didn't design it to be a long-distance tack-driver, he designed the rifle to be low-cost, simple, easy to use, and reliable even with the worst conditions and poor maintenance.
There is something to be said about that. Also they're just plain fun.
Because of all of this I said to myself that one day I'd have some money to spare and I'd just pick one up just to have it. I mean it IS a Kalashnikov, and back in 2006 they were selling for around $300.
Then Obama got elected president and threatened to ban guns like this, and the prices skyrocketed. The $200 SKS rifles suddenly were selling for $600, the AK-Clones were selling for $800 or more.
Well the Anti-gun bigots declared President Obama a Failure and the prices started going down.
They've settled down a lot, still an SKS is now asking $3-400! So I decided to strike while the iron was hot before AKs became stupid-expensive.
Here it is!
Finally my SHTF Gun is a Romanian SKS, which is a better rifle IMHO, but it is fed only through 10-round stripper-clips into its non-removable magazine. Six-to-one Half-a-dozen to another, I think the WASR-10 AK will be a better SHTF gun with its 30-round removable magazines.
Its totally filled with Cosmoline, so it needs to be detail stripped and take a mineral spirits bath on a nice sunny day.
Its also my first "Assault Weapon" in my collection, and I'm pleased to welcome it to the fold!
Arrrrrr