So those who have been following the blog closely know I acquired a Romanian SKS for a good price, and by default it became my SHTF rifle. I must say I have a lot of love for the SKS it has good ergonomics and out to 100 yards its passably accurate. Also while its a fixed-magazine semi-auto it can be quickly reloaded using 10 round stripper clips.
Still its a communist rifle and it exemplifies the Soviet military mindset at being "Adequate" in every way. I yearned for more gun.
So I dropped a little more coin for a WASR-10
Long story short, after a few months I found that if I wanted to burn 7.62x39mm ammo, I was still bringing the SKS to the range. The WASR just wasn't fun to shoot, and just didn't sing to me, and I'll say 90% of that was changing magazines on the gun. AK pattern guns just require some very unnatural movements to seat that magazine, and magazine changes are kinda the whole point to getting a detachable magazine gun, so I went and sold it.
You see, 7.62×39 was a compromise for me anyway. More powerful than 5.56x45mm which I just don't have a lot of confidence with, and the ammo is easy to get. Still my true love is 7.62x51mm/.308 Win when it comes to muzzle energy, bullet size/weight, and availability.
So the guns I looked at were the AR-10, the PTR-91/H&K G3/CETME, M1A, FN FAL, and the FN SCAR-17.
Out of the box the SCAR-17 is the vastly superior gun in every way…but with its standard folding stock it is not Massachusetts legal. They also sell for about $3000, and guns and magazines are virtually unavailable, so that got ruled out. The AR-10 is a nice gun, but I'm not crazy about the AR platform, and the magazines are a nightmare to find in Massachusetts, and they're super expensive when you do. The CETME platform is an ergonomic nightmare, eats brass, and is the ONLY gun here without a bolt hold-open. H&K? You suck and I hate you!
So that left the M1A and the FAL. They're close enough for government work, but the FAL has better ergonomics, IMHO a more robust design, and magazines are easier to aquire. So it won, and I bought a Century L1A1 Sporter: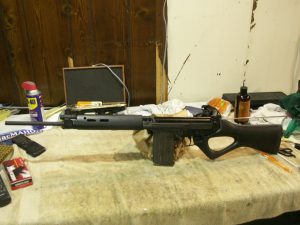 I got it for a smoking deal, and I overall liked the gun, plus the non-threaded, not muzzle-brake'd muzze was a huge selling point because of the Massachusetts AWB. Still it only took one trip to the range to work up the laundry list of issues with the gun. The big ones being A) no Sling mounts, and B) the Crappy Thumbhole stock was not only an eyesore, but it made it impossible to actuate the safety with a normal firing grip.
The issues complicated themselves more when the gun began to chronically short-stroke. I decided to give the gun to Commenter and Buddy Wally, along with a bucket of parts I got from hither and yon, and asked him to work his magic.
Well I got it back. Well it turns out what they say about Century is true. The gun was missing internal parts (namely the gas tube pins) and its halmark of quality was the drywall screw that holds the pistol grip on.
Well Wally un-fucked all that was fucked, installed the new parts, and also decided to give it a minor trigger job. The trigger was quite ugly on the gun, now its still heavy, but VERY clean.
It now functions like a champ, and after throwing a com-bloc AK sling on it: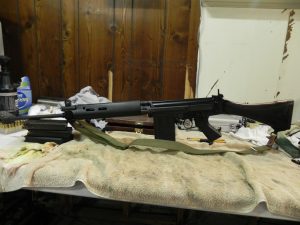 I am so happy with it! This gun reminds me of the first time I picked up a 1911. It just makes SENSE. The controls are all where they need to be, and the gun points and shoots SO WELL. Also it puts a round I have 100% confidence in down range.
So I finally have the SHTF gun I always wanted.
Now if only we could repeal the Massachusetts Assault Weapons Ban so I could also get an 18″ Paratrooper