I mentioned here that I had a fun dinner with somebody special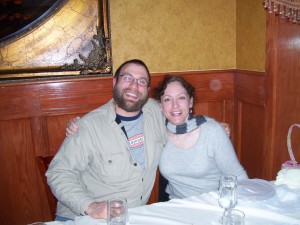 Yep Christina was in town! (Check out her newfound Red Sox Fandom!)
The Mrs. and I, as well as Sci-Fi and his lovely wife all hosted her at a local eatery. Super good time, and much fun was had by all.
Also God-Bless the internet, All of us have met each-other through the internet. Pretty Neat since all of us grew up with no-such-thing in existence!
Glad I finally got yo meet you IRL, Christina! The Pleasure was all mine.
Also now I'm (Almost) as cool as Marko!