First up, My little Niece knows me well. She came up to my tent first thing this morning, still in her pajamas wanting me to see the skunk.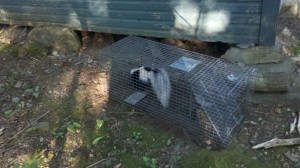 I wonder if this is the guy from the other night. He was kinda bummed about his incarceration. The camp takes them down the road to the woods and lets them go. I suspect its close enough that they simply walk back over the next few nights.
Had a nice drive home, and listened to the latest Vicious Circle. FYI when I'm listening to a recorded VC that I'm not on, like last night, I find myself talking to the radio as if I was on Skype.
Good show, and Mrs. Weer'd had a good chuckled every time Dennis did a Dr. Rockso impersonation.
So now I'm home. The truck is unpacked, but I have a mountain of laundry to do and bags to unpack. I'm gonna take it easy for a bit!