As many of you may have noticed, I got flamed by Robert Farago of The Truth about Guns. No direct link to the post, but hop over there and you'll see a certain rubber-duck banner that he appropriated without permission. If you read it its about as coherent as a typical Jadegold rant. Its also as out-of-the-blue as I don't really read his site anymore because after so many instances of copyright infringement, and general cribbing without attribution, I assumed he was avoiding my site so I stopped my daily scan for stolen goods, and certainly none of you are interested in blog drama.
Still what amused me was what a link from The Truth About Guns looks like.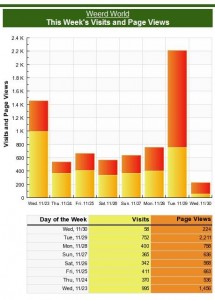 I run a fairly humble blog here. I also don't get any ad revenue, so my hits are what they are. Frankly I'm glad to see as many regular readers I have here, and I'm happy when far more prolific bloggers swing by to comment, or link to one of my posts. Still let's do a little dissect. The peak to the Left is the BACKSIDE of an link from Say Uncle. (You can see the full Monty here…note the spikes this month are either links from Uncle or Tam…).
Now first I'm not going belittle Mr. Farago in his web-building skills. As many of you know his blog sprang fully-formed into the world and was getting big readership from day one. Part of this was because of his Car Site (Which was wrought with many of the same problems his gun site is) and SEO.
It made a big splash, but there are a lot of things missing that come from starting at the bottom and working up like all the great bloggers have done. His site has been running for only a year, and yet most of the readers I talk to have only been following for a few months (and haven't read long enugh to read his famous contradictory posts say on Open Carry, Mandatory training, or Constitutional Carry, Mandatory Safe Storage Laws), and of course there's a REASON why Mr. Farago has such a reputation as a plagiarist and a hack.
Unlike in the past where he frequently would crib articles and either not link, or bury the link, this post offers a good solid link to my site. So why a man who brags about the popularity of his site and his massive staff of authors can't even double my site hits for a day? Also I suspect the massive amounts of "Page Views" are people checking back to look for a scrap.
While Farago and his Co-Blogger admitted criminal Mikeb302000 have given me a lot more credit than due on the so-called Blacklist (BTW North took what was a failed experiment and made it into something amazing! hats off, Brother!) I suspect this big downturn happened after word got out that he was stealing from Tam and Say Uncle, and then lying despite the evidence before him. (BTW when I met Mr. Farago in Pittsburgh I commented on his famous flip-flopping on the gun issues. His answer "I don't Remember." Seriously. I can remember being anti-gun, anti-carry, and for mandatory training DECADES ago, and Robert Farago can't remember his political position last year? That's a Barney Frank level of lying right there!)
I'm glad the truth is getting out. As for my feelings on Mr. Farago and his organization: I'm not a fan of it. My only wishes for him is that the truth be known.
**Update** THIS is how it REALLY looks. Of the last 100 Visits 76 have come from this Say Uncle post 17 are various people entering the direct URL, and TWO are leftover from Mr. Farago's little flame. That's what READERSHIP looks like.