So most of you may know of the follies of HS Precision
Well the exhibit floor is totally packed here. I've actually made note to come back to many vendors when they are less busy.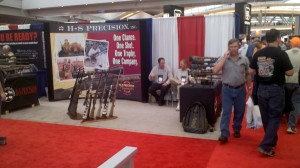 Well the HS Precision booth is empty and their represntatives look really bored.
One Gentleman stopped by while I was writing this post and asked if they made Browning BAR stocks. They told him "no" and he moved on.
I didn't say anything to them. Didn't need to, seems the people have spoken.