Wow, I'm just amazed at the irony of this article.
There's really no kind or diplomatic way to put this: Gun nuts are just that, nuts.

Now don't shoot me, please, for calling it as I see it. But after watching the local gun-control argument for the past half a century, I've come to the conclusion that rational, intelligent people don't want to live in a community where everybody is armed to teeth and carries extra clips in their fanny packs.
Check your anti-rights Bingo Card! We have Insults, "Everybody armed", and improper use of clips. Got your cards marked?
An ambush by Republican state lawmakers this week was thwarted 3-2 in a state Senate committee that had three smarter people than the two who thought it's a perfectly marvelous idea to wonder who inside a packed, dark cinema has a loaded, 9 mm Glock G17 with the safety off tucked in their hoodie pocket or their kid's diaper bag.
OK so check your cards again. We have "supporting the 2nd Amendment is an extremist position" in this case a "Republican Position". (Let's not look at how many Democrats support the 2nd Amendment or how gun control seems to be the drum only beaten by some of the most extreme "Progressive" leftists) and impossible/improbable gun situations. The whole article does a great job of making a case that he knows NOTHING about what he's talking about but well, more on this later.
Now don't go rolling your eyes. I'm no anti-gun freak. I grew up in a place in southeast Colorado where more folks than not have a rifle or a handgun tucked under the front seat of the truck to get that damned coyote that's been wreaking havoc with the stock, or to quickly end the misery of the stupid sheep that broke all its legs trying to untangle itself from a broken fence. I like shooting off guns. It's a guy thing.
Back to those cards. You can mark "I'm not Anti-gun/I'm a Gun Owner But…", also note that guns are just for hunting, sporting, and shooting animals. Defending your life, or the life of your family members…"Just Nuts".
Oh and you can mark your "Sexist Remark" square! You know because ladies are too delicate, fragile, and wimpy to shoot guns.
I realize that I'm OK with me carrying a little pistol in my pocket, but I am in no way OK with you carrying one.
Mark your "Rules for Thee, but not for Me" Square.
I have yet to hear a single, compelling argument from these whack jobs as to why in the sam hell they think it's a good idea to make it super-duper easy for just about anyone to pack heat anywhere. Worst among their misfires are the arguments that if everyone has a gun, we're all safer because nobody would dare pull a gun.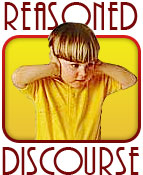 mark it! He continue to not hear compelling arguments, because of the above illustration.
Man, that's just crazy talk. That used to be called Mutually Assured Destruction, or MAD, when we played that game with nukes. The only thing that will happen when everybody gets a gun is that more people will start shooting themselves, more good cops will quit because they don't want to get shot by gun-toting dorks, more innocent people will be shot by nuts with guns who have no business handling them anywhere, especially in public places, and stores will sell more guns and bullets. Nothing there says "safer community" to me.
"Blood in the Streets", Mark it!
Another stupid argument Neville made for ending concealed weapon permits is that Vermont, Arizona, Wyoming and Alaska do it.

Dude, this ain't Wyoming. If you think it's a kicking time to go to bars where lord-only-knows-who has a hog-leg in their boot, by all means, go there. Stay there.
Oh a rare "This isn't X" argument! And doubly rare when "The South" isn't the whipping boy for arrogant Northern Elitists. I seriously think All Anti-Rights people from Northeast Cities think the entire South is just a bunch of fat bearded white guys (with sun burned necks, natch) sitting around in lawn furniture in front of a single-wide passing around a moonshine jug and talking about how much they hate N***ers, and debating when its time to break out the sheets.
Just look to Arizona, land of the OK Corral and the Giffords' meeting massacre. Supposed hero Joe Zamudio had a drive-through pistol in his pocket the day an insane man with a gun opened fire in Tucson.

He said it emboldened him to race to the scene. He pulled his gun on the wrong guy. "I told him to 'Drop it, drop it," he told TV reporters. He said he was just "lucky" he didn't pull the trigger on the innocent man in the split seconds he had to decide what to do.
Man this guy is pushing for victory! We have an Old West Reference, a little Gabby Giffords blood-dancing (BTW How much love do you think these angry insult-slinging elitists would have for a pro-gun Democrat like Giffords if she HADN'T been shot?), and both admonishment for Joe Zamudio as well as misrepresenting the events.
I saved the best for last!
In fact, I would say that I would have been able to support Republican Sen. Tim Neville's no-permit-necessary bill — if I were the only one it applied to. You see, being smarter than gun-nuts…Folks, luck isn't what should be driving gun-control legislation. Wisdom and reason are what we need at the Capitol, and probably IQ tests.
Yep we have "Gun People are Stupid", despite this being a fact-free piece filled with juvenile insults, and pure ignorance.
EPIC irony!
BTW somebody should make an anti-gun Bingo card! It would be fun to play!