I've been having so much fun seeing the various Candle-light vigil pictures. Nice to see what people chose to photograph and how they composed their shot. What surprised me most of all was how many people had the primary/backup/light carry setup of an M1911 of some sort and a Kahr Arms Polymer of some sort.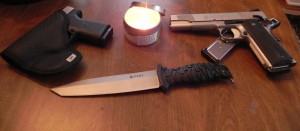 Here's my 5″ Stainless House gun (My primary carry is my Scandium Commander) and my Kahr PM45
Wally mocked up the above picture with his own guns, but in 9mm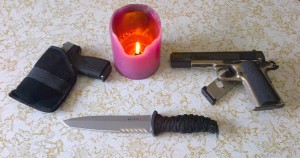 Essentially the same guns, but a Norinco M1911 in .38 Super, and a Kahr P9.
Of course Wally and I aren't the only ones, seems a LOT of people have a little plastic Kahr backing up an all-metal 1911.
I carry a Kahr because I find them to be the smallest, lightest pistols for what they do, and they have a VERY agreeable trigger, and zero extraneous safeties or "Safety features".
But meanwhile I carry my 1911 because I'm so invested in the gun that it would be foolish, and pointless to switch to something else. But while the 1911 is one of the slimmest pistols on the market, they exposed hammer/beavertail makes the gun longer than it needs to be, and the gun has not only a drop safety but a thumb safety AND a grip safety.
Seems a bit of a contrast, and I was curious how all my other brothers of the Kahr came to settle on that combination.