Over at Joan's place. The fact that she published it at all really gets me scratching my head. You think she only got 6 comments on that post, 3 of which are her claiming the sky is indeed green and has always been that way. "Molonlabe" pegs her, but good:
35% of ALL domestic violence deaths in MN via a gun doesn't have the same wow factor.
Joan is an "advocate against domestic violence", of course I have to use the quote marks because only 35% of those dead people are the "Right Kind of Victims".
For all those other victims, well…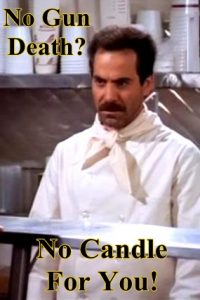 Remember, we're the heartless ones, we're the ones who don't care! There's no evidence of that, just "The foolish gray-haired MN liar" said so…and well since her sister died 20 years ago, she gets a free pass on lying!