So we laughed at NGVAC's "Fact Sheet" that contained zero facts a while back…they doubled down.
Starbucks Is Feeling the Burn of Their Own Brewing — National Gun Victims Action Council (NGAC) Reports Starbucks Losing Thousands of Loyal Customers Due to BREW NOT BULLETS Boycott…THE BOYCOTT IS WORKING
"We're less than 5 weeks into the campaign and over 2,000 loyal long-term Starbucks customers have stopped spending money, on average $71 per month, at Starbucks stores and on their products," says Elliot Fineman, CEO of NGAC. "They are repulsed by Starbucks support of the NRA's Lethal Pro-Gun Agenda." (see comments below).

"The boycott will keep growing, it is a continuous effort and it has only just begun," Fineman says, adding, "The Starbucks boycott is a specific way consumers can use their purchasing power to help create a safer society for themselves and their loved ones." To join the effort, go to 3 CRITICAL THINGS TO DO NOW.
BTW to support their claim that "2,000 loyal long-term Starbucks customers have stopped spending money, on average $71 per month" they cite three (3!!!) anonymous comments. Again THREE their n=3, 3! III Really!
Oh and want a harder laugh? If you click on the "3 Critical Things to Do NOW" one of those things (and possibly the easiest thing to do EVER) is to "like them on facebook".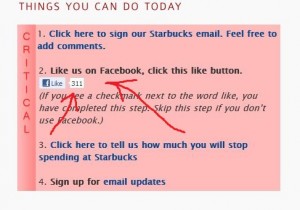 311? And remember that two of those "Likes" are "Baldr Odinson" and "Jason Kilgore", they have 2,000 people active in the boycott, and yet only 1.5% of them have a facebook account? further there isn't a single person who doesn't shop at starbucks supporting the anti-rights agenda?
We call that a "Lie", but hey that's just silly anecdotal evidence! Really it could be all a bunch of Luddites who love Starbucks and but love NGVAC and hate the US Constitution more, and also don't know how to use a computer. Right?
The big claim made by NGVAC was "Starbucks Stock will Plummet!"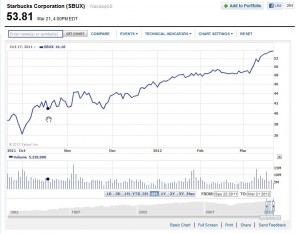 If you have a laptop you might want to flip it upside down for the sake of Elliot Fineman. Elliot, you just got caught in another lie!
I doubt he'll pay me too, but I'll take whatever he wants to give me.