So it's Thanksgiving, and soon I'll be heading up to Maine to spend some time with my family and eat too much dead bird.
Still I have to be sappy and talk about what I'm thankful for!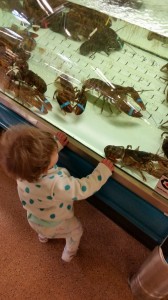 My baby messes with the lobsters at the grocery store! AWESOME!
Hope you're all having a happy Thanksgiving! Eat too much and have a good time!
Also poll for the questions, I know some people who treat Thanksgiving as a drinking holiday. I like to drink, but this isn't one of them. Maybe a glass or two of wine with the Italian side, but on my side of the family we don't do much of the boozing. Do you?