You be the judge!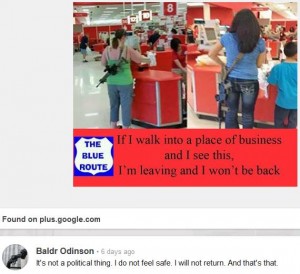 So Jason "Baldr" Kilgore of Ceasefire Oregon says "It's not a political thing. I do not feel safe. I will not return. And that's that." in regards to open carry.
We KNOW he's well aware that there has never been an issue with open carriers that resulted in personal injury or even anything close. He scours the news every day for any story that can be twisted to the breaking point to be anti-gun, you know that if he ever found anything that suggested that somehow somebody with a slung rifle or holstered pistol doing their shopping was a danger he'd be blogging about it anyplace that hasn't banned him.
He may not know that both the rifles pictured are obviously unloaded, unless the lady in green feels the need to be EXTRA anti-gun compliant and has one of those 5-round flush-fit magazines. Still given that her gun has a pistol grip AND a collapsible stock, I highly doubt that. The lady in blue, even with as grainy as the photo is, I can see the empty mag well.
So is he honest when he says such an image doesn't make him feel safe, and there is no politics behind that? Also is that JUST because there are rifles being carried, or is it open carry that concerns him? It certainly isn't the carry of guns because Oregon has fairly liberal Concealed Carry laws (as well as Open Carry laws), so Likely wherever Jason shops, goes to movies, or otherwise spends his time outside of his home, he's probably encountered more than a few armed private citizens.
Which leads me to the question if he is lying. He knows that these open-carry demonstrations, be it a group demonstration, or a single individual or family choosing to exercise their rights in a way to promote awareness, do NOT quickly degrade into a mass shooting, or have instances of physical confrontation or negligent discharge of firearms. He knows that people can freely carry without police discretion or onerous requirements, or liberal town preemption. He knows Oregon doesn't have an "Assault Weapons Ban" that limits the choices of those who choose to go armed.
That leads me to believe this is NOTHING short of a political statement and indeed he's feigning concern to make his agenda look more valid.