So we're making our annual trip to lake Champlain tomorrow. I'll be generally away from the blog all week. I have the "Gun Death" Reports all set up so you'll get new content every day.
What's exciting is little LaWeer'da will be making her first trip to Vermont OUTSIDE of Mommy! She'll get a chance to swim in the big lake for the first time. I suspect she'll love it.
A lot different from her little pool!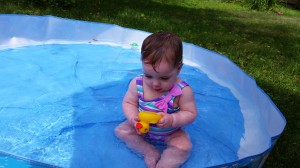 Will be a well-deserved vacation! See you all in a week!