Via Joe's excellent Markley's Law Monday
I Find This: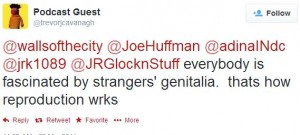 More psychological projections. Just like they WANT to shoot people for taking their parking space, or kill somebody who shares a different political view.
They also think we're all spending our time in the locker room pecker-checking, and somehow that matters.
Maybe its a Grown-up thing, and despite their ages "Progressives" all seem to be children.
As a grown man, married and with a kid the size of my penis has exactly ZERO relevance. My wife is OK with it, and given all our social and financial intertwinings, I doubt it has any impact in my life. I certainly have no interest or motivation to impress anybody else with it.
Really, it is about as irrelevant as anything except to myself and my wife, and honestly the SIZE of it isn't even the top ten concerns about my PENIS let alone my day-to-day life.
Hey, but the size of my dong is REALLY important to them. I guess it keeps them up at night. Strange.