So my Father and my Father-in-Law both owned guns. They grew up hunting and shooting in Maine and Vermont respectively. My Father-in-Law became an avid hunter and Skeet shooter, while my father decided guns weren't for him.
So Dad didn't much like guns or shooting, but he owned guns, and for reasons unknown rather than selling them off, he kept them, and with total disregard for caring and treatment of guns, they were ruined. He had a Mossberg 16ga slug-gun, which he eventually gave away when a friend showed some interest (allegedly he got it working again), but his old youth .22 had no claimants.
Dad got the gun when he was 10, and it wasn't new then either. Likely the gun was older than Dad is. It was given to him by my Grandfather (who I don't remember, as he died when I was very young) and Dad learned to shoot with it.
Fast forward over 50 years, and I found the .22 in Dad's basement. Dad had literally done NOTHING to the gun ever, and kept it in a basement that until only recently didn't have a water problem. The condition was not good.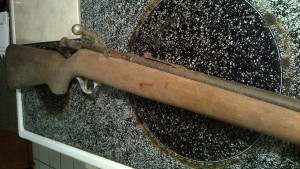 The bolt was frozen in the open position, and the gun was little more than trash. Concerned that some day my Mom might simply pitch it in the trash, which could potentially warrant a felony conviction, I told Dad that Wally of York Arms didn't live far from him, and Wally had all that was needed to legally de-mill the gun allowing it to be treated as the trash that it was.
of course I did note to Dad that I have guns that are over 100 years old, and are still in good shooting condition…
Wally, like most gun lovers was sad to have to put a gun to the band saw, but he accepted the rifle, and I thought that was it. Hell so much that I didn't take that picture! You don't take a picture of trash before you throw it away…
Well Wally called me about a week later, saying he got it shooting. "Got what shooting?" Was what I answered…I didn't think that rifle would EVER work again. Seems in a stroke of luck spiders laid their eggs in the barrel on both the chamber and muzzle end. The plug of silk kept the air fairly dry in the bore, and the rifling is surprisingly good. Think "Bright Bore" Military surplus quality. He asked if I'd be willing to have it restored. This is my Father's first gun, and a gun I thought had been ruined by the ravages of time. You can guess what I said.
I essentially said since the gun no longer had any historical value, to feel free to do whatever he thought would be best for the gun, and that there was no rush.
Well I finally got it back:

Dad didn't even recognize it. My first question was "That isn't the original wood, is it?" IT IS!!!! Just on a Whim Wally had it re-finished in a high-gloss finish, and the figuring in the wood just amazes me. It just looked like dull wood under all that dirt and mildew. Also the barrel and receiver are blued, then Parkerized. It looks AMAZING!
So this will be my Daughter's first rifle!
You thought I was done, but there's more. As I said, My Father-in-law was an avid hunter and skeet shooter, he was also a Criminal Defense lawyer, who often worked as a public defender.
Public defense introduced him to many unsavory characters, and without getting into too many details, he felt the need for some personal protection. So he went into a local gun shop and bought what was a hot new ticket in the concealed carry world: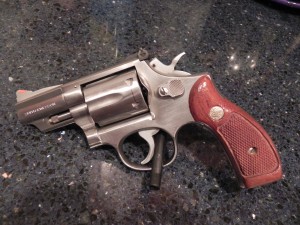 A Smith and Wesson Model 66 .357 K-Frame. He fired it a little, carried it a bit more, and given that this was Vermont he didn't even need a permit. Over the years he's given his various duck and deer guns to family, but the K-Frame was always kept close at hand, just in case.
Still as he got older the long heavy trigger of the gun, and the punishing recoil got to concerning him, and he frequently talked about selling it. I informed him he could sell the gun whenever he wanted, but could not sell the gun to anybody but me.
This recent trip to Florida he decided this was time to do it up. We had been talking about replacements for years, he finally decided on a VERY gently used Glock 19, and I brought the M66 to the shop, and had them Transfer the revolver to Massachusetts, and let me handle the cost of the Glock.
We both feel we got the better end of the deal.
So yeah, there is something pretty amazing about family history. Of course the M66 is in pristine condition, and the old .22 will never be neglected again!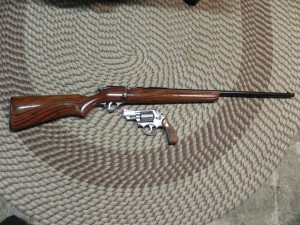 I will never sell either, these guns will again be passed down.