So often for this segment I'll just link to a hosted image, but this one I needed to do a full screen cap: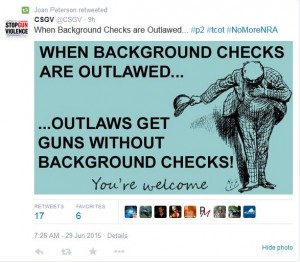 Maybe you would believe me, but that CSGV would put up this image, and Joan Peterson would retweet it.
Um, Antis? Who the hell is talking about OUTLAWING background checks?????? Right now the only things the pro-gun lobby is talking about is not making background checks ILLEGAL. The antis are the ones talking about OUTLAWING private sale of firearms.
Hell even a hard-liner like me simply wants to get rid of the Brady Background Check system because it's essentially worthless, but even then I'd be getting rid of the MANDATORY background system. If you wanted to PAY for a background check…for any reason, you could.
Just so obtuse! Seriously the anti-gun camp is being run by lunatics!