A turn of the catch phrase of these vintage ads!
Since I've taken to putting some of my favorite recipes up here, this is another perennial.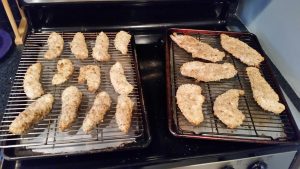 This was a big batch of Chicken tenders made for a party. They're easy, they're relatively healthy, and they taste AWESOME!
So first you need your chicken. What you need are thin pieces of skinless chicken. I frequently find good deals on chicken tenders or chicken cutlets at the grocery store (There's a rack of each in the picture), but if you don't have those all you need to do is take a boneless skinless chicken breast and pound it with a meat mallet until it's flat, then trim them to whatever size you want. That method actually makes the most tender tenders IMHO, but it's more work.
Also I don't see why you couldn't also do this with chicken thigh meat, or even veal or pork cutlets.
Once you have the meat, you need three bowls or pans for the breading. Pan #1 will be filled with flour, Pan #2 with a beaten egg with about 1 tablespoon of water mixed in per egg used. Pan #3 will have panko bread crumbs.
Note you can season each of these ingredients however you want. Hot and spicy, Italian herb, ect.
Dredge each piece in each of the pans going flour, then egg, then breadcrumbs, making sure each peace is fully and evenly coated.
Then place each piece on a cooling rack placed on a baking sheet, making sure not to crowd them. This gives maximum air contact and allows them to get really crispy on all sides without need for flipping.
Then bake at 450 degrees for 15 mins. After this the chicken will still be moist and tender, but the breading will be crisp. Then do with them what you want. Eat them as-is, coat them with buffalo sauce, I frequently cover them with sauce and cheese and make Chicken Parmigiana.
Enjoy!!