So this is a little project I decided to do. I have these tiny cocktail glasses, and when I can't decide what I want for a drink, or I'm thinking about how certain drinks relate to each other, I just make three tiny drinks!
So this latest inspiration was making 3 related drinks that could be considered "Secret Handshake" Drinks. These are drinks that are slightly more obscure than say the Dry Martini, the Daiquiri, or the Old Fashioned, but not so obscure that anybody who's read more than one Cocktail book has probably heard about.
These are also good drinks to be able to mix up for friends as a way to flex a little, without being too pretentious.
So there's going to be six drinks here, I decided to go with a Whiskey trio, and a Gin Trio
We'll start with the Whiskey!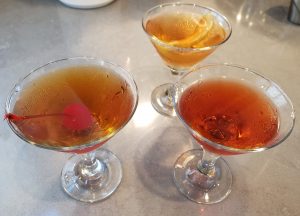 So I'll just Name them off and give the Recipe
Manhattan
2 parts Rye Whiskey
1 part Sweet Vermouth
Angostura Bitters
Garnish with Cherry
Sazerac
2 Parts Rye Whiskey
Dash of Absinthe (or Pernod…heck if you have Ouzo or Sambuca, that'll work too!)
Dash of Pechaud's Bitters
Lemon Twist
Boulivardier
1 Part Bourbon Whiskey
1 part Sweet Vermouth
1 Part Campari
Orange Twist (I didn't feel like peeling an orange)
I realize in writing this that a Manhattan is probably a little mainstream for this list, so take it as you may, I can't think of a better replacement, maybe a Final Ward
Now onto the gin drinks!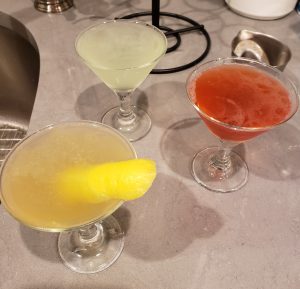 Corpse Reviver No 2
1 Part Gin
1 Part Grand Marnier (You can also use Triple Sec or Cointreau
1 Part Cocci Americano (You can also use Lillet Blanc)
1 Part Lemon Juice
Dash of Absinthe (or similar)
(I also will sometimes Do this drink with Egg White)
Garnish with Lemon Twist
Last Word
1 Part Gin (I personally double this, and scale the drink accordingly)
1 Part Luxardo
1 Part Green Chartreuse
1 Part lime Juice
Negroni
1 Part Gin
1 Part Campari
1 Part Sweet Vermouth
Garnish With Orange Twist (again I was lazy here)
Also I will note that the Negroni and Boulivardier are VERY similar drinks, so I'll offer an alternative with the Hanky Panky:
1 Part Gin
1 Part Sweet vermouth
Few Dashes of Fernet Branca
Garnish with Lemon Twist
So there you have it, 6 (ok 8!) drinks you can make or mention when people are talking cocktails that will show you know what you're talking about.
Also there aren't that many bottles here, you'll need a gin (I actually made ALL of these drinks with New Amsterdam London Dry which is as versatile as it is affordable)
The Sweet Vermouth gets a few uses
I made all the Rye Drinks with Bulliet Rye, and the Boulivardier with Wild Turkey
Campari will give you both the Negroni and the Boulivardier
And I listed two drinks that used Absinthe (and personally I use the much more affordable Pernod)
Also with the Green Chartruse (which is a bit spendy) you get the Last Word, and Final Ward.
So really you can go from an empty bar to a big chunk of this in no time, and chances are if you've read this far, you probably had 60% of what I'm talking about anyway!
Enjoy!