I've gotten REALLY good at these!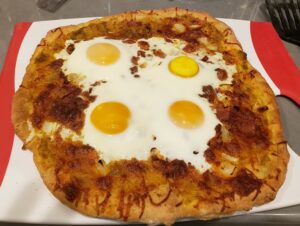 So it's a collection of other recipes.
The Dough is this recipe I just made this one pie, so I made a half-recipe of the dough. You mix it up the night before and let it rise all night on the counter. This is both easier than kneading the dough, and I think the flavor is better.
Pre-heat the over with either a stone or a pan in it for as high as it'll go, and stretch your dough onto a peel, and I dust mine with cornmeal because I really like the taste and texture of a pizza with a cornmeal bottom. When you stretch the dough as thin as you can make it, roll the edges up slightly, then apply this sauce. (BTW I tend to always have a batch of this stuff in the fridge, because add a few dashes of hot sauce and it turns any eggs into eggs benedicti!
Then I used a Cheddar-jack blend of cheese and Parmesan, I think this pizza calls for a stronger cheese than Mozzarella. And I topped it with onions and bacon.
Toss it on your heated stone and let it go for about 5-10 mins until the cheese is just starting to melt, then pull the pie out and crack 4 eggs on top, and back into the oven until the yolks JUST start to set. If you want to mix up some scrambled eggs and pour it over the top, that would work too. This is why you make the lip, as it keeps the eggs from running off the pie.
Just thought I'd share!