In the latest James Bond novel "Carte Blanche" 007 drinks several of these: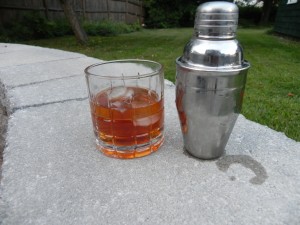 The drink is two parts blended Canadian Whiskey (Crown Royal is what Bond requests, Segram's Seven is what I have, which isn't ideal, but you want a fairly plain whiskey so it it doesn't distract from the other ingredients) half-measure of Triple Sec, and a few dashes of Angostura bitters.
The drink is to be served on the rocks, and given that its a variation of the Old Fashioned drink, it helps if you have an Old Fashioned glass like I do.
I realized I have and enjoy all of the ingredients, as soon as I got home (like AS SOON AS I CAME IN THE DOOR) I decided to mix up one. Damn good! Also while I dislike shaking a martini like 007 is famous for because it makes the drink cloudy and if you use smaller ice cubes like those found in bars and ice machines it will often lead to your drink having lots of mini icebergs floating in it. Since this drink is served on the rocks there is no ill effects to shaking the drink, and it does make the drink colder and gives it a different mouth feel. I have a nice little mini-cocktail shaker that is great when I'm mixing up one just for me. If I were mixing for a group I'd put ice in all the glasses, measure out the cocktail, shake and strain it into the glasses just to keep the ice even. For just me, I simply dump the full contents of the shaker into my glass.
And in the time it took to write this my glass is dry!
Give it a try for yourself! I think you'll find it is a perfect balance of sweet and robust to suit many pallets.