How much gun craziness must our nation endure before more of our politicians start standing up to the extremist minority to enforce the common aspiration of the majority of Americans, including NRA members, for reasonable gun laws to protect the safety and security of our families and communities?
-Dennis Henigan of the Brady Campaign
Keep those posts coming. They are the very loud minority whose views have become so extreme as to defy reason.
-Joan Peterson, Million Mom March and Brady Campaign.
They obviously read the same newsletter. Also they don't seem to be very concerned with reality.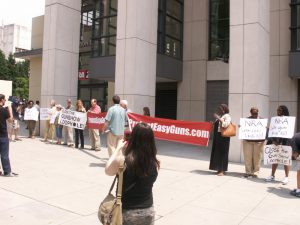 That's a protest funded by "Protest Easy Guns" (I bit ironic as everybody in that building was legally disarmed by North Carolina's stupid gun laws. The laws were so restrictive, despite having a permit recognized by North Carolina, I left all my guns at home) now look at this picture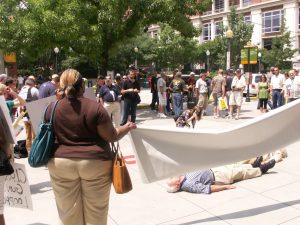 I stepped behind the protest and took a picture on how THEY were seeing things. There you have 12 protesters organized by an official Political Action Group, and well over 100 NRA members (I can't say "Grass Roots" in this case as the NRA is also among other things a PAC, so Apples to Apples) And according to most news sources there were 70,000 members present at the convention over the weekend.
If we're the "Fringe Minority", where's the rest of your group?
Hell look at the other side of the coin
Nelson was among 75 gun owners and gun rights advocates who attended a barbecue at Back Cove Park in Portland on Sunday to celebrate the right for Mainers to openly carry firearms. Many at the barbecue wore holstered handguns…The barbecue was organized by Shane Belanger, a freshman pre-med biology major, who said he had no political motive other than to simply throw a barbecue for like-minded people.
A 19 year old college student was able to bring by the paper's count "75 gun owners" together in MAINE. Heck I almost went there, but I had another appointment and had to get back to Massachusetts.
The event drew dozens of onlookers and a group of 30 protesters organized by Dan Skolnik, a city councilor for District 3 in Portland.
30 is a good deal better than "Protest Easy Guns" little spat of 12, and certainly 75/30 is a LOT closer than 70,000/12. Still this was by a City Official, and that's all he got?
Again if we're so fringe, why do we always grossly outnumber the opposition?