So this post generated a bit of controversy that I partially expected…tho not 100% where I expected it…so more pix after the break.

The big surprise was "Hey your shoulder straps are printing!" which was a huge surprise to me. As the comment was made while I was at the lake I peeked at the photos as best I could on my phone….then at my computer when I got home. Frankly I see what you guys might be seeing, and I'm pretty sure its just wrinkles in the shirt because I dress like a hobo. So since I'm heading out to get groceries soon I put on the 1911 and shoulder rig and took some more pictures. One before I put on the holster, one after. Better yet, since the store where I bought the first shirt was having a sale I have a half-dozen of these shirts, all the same size and pattern and meterial, in a bunch of different colors. So I picked the lightest colored one (as the Navy flannel you all agreed conceals the rig very well). So no hints, what picture am I wearing my gun and shoulder rig?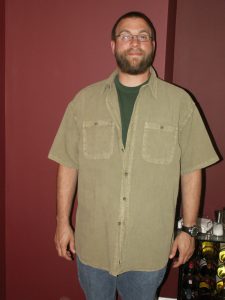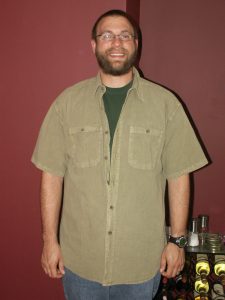 Second I addressed in the comments was the "I don't like horizontal carry because you're pointing your loaded gun at people and things" essentially comment that a horizontal holster is a rule #2 violation during carry.
Can't agree! A gun that is not being operated does not apply to the 4 rules. Does anybody seem to mind that in gun shops most of the guns in the case are pointed at your legs? I think we all roll our eyes when we read a news report that has the wording "The gun went off" in it. In the "Back" photos in the initial post my gun was loaded, cocked-and-locked and pointing right at my beloved wife.
I had no concern for this #1 because I have NEVER read a story about a gun "Just Going Off" while riding in a holster. And when you think of all the CCW and Police and military holster carry that happens every damn day in this country, even if I read ONE story, the accidental discharge would be statistically irrelevant. Nope all the holster related negligent discharges involve the gun being drawn or more commonly being holstered (with a finger pinched between the holster body and the trigger). So its not a concern even if I was carrying a Glock or an M&P or a revolver like this….on top of this the 1911 redundant safeties mean that the thumb safety was engaged, the grip safety was engaged, and with this holster the retention strap rides between the hammer and the firing pin.
Still just the fact that the holster body completely conceals the trigger guard is all you need to not worry about where your muzzle points. That being said as soon as you draw you need to be aware of your muzzle because as soon as your trigger guard clears the holster body the 4 rules now 100% apply! In a cross-draw you must take steps to not muzzle your own body, and also be careful not to muzzle others. With a horizontal holster you need to be sure who's behind you when you draw, as well as who stands to your left as that 180 degree arc will be muzzled. I am aware of this arc when I holster and unholster my gun for day-to-day carry, also when I'm at the range…tho I won't lie, I'll take my damn chances if I'm ever attacked, as 1 of the 4 rules can be broken with no ill effects.
So hopefully this clears up some misconceptions on a horizontal shoulder holster!