This evening went to a couple of posh swares with lots of bloggers and pro-rights activists. I'll talk more on that later, as its late and I should sleep. Still: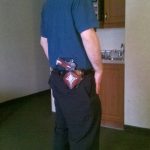 I open carried for the first time. It wasn't a big deal…which is exactly how it should be.
Dennis was making quite a showing with his Dragon Leatherworks holsters there were at least half-a-dozen of his holsters at the parties. That there is my Flatjack
Concealed verses open carry should only be a question of your wardrobe. As the evening wore on I put on a jacket and my holster was concealed again. Simple as that.