So I get home from work today and what's there, but a box. I didn't recognize the return address in New York. Was it a letter bomb? Anthrax? Nope, much better!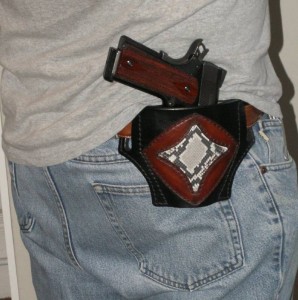 That's a Dragon Leatherworks FlatJack Holster sent to me compliments of Dragon.
I suspect he got my address through Jay who named and reviewed this holster. His was for a S&W J-frame, mine is for a 1911. I gots a lot to say so here be the cut!
So first up there is no "Fresh-out-of-the-box" picture because I immediately donned my belt and dropped in my S&W1911Sc and took it for a spin. First my initial impressions. Its a sharp looking holster. It has a body made of black leather, with an insert of tan leather and genuine python skin. The stitching is very neat, and the leather is very stiff and tough.
Now as a disclaimer I'll note that I'm not very knowledgeable on belt carry, as I tend to tote my 1911 in a Shoulder-thing and I generally don't wear a belt. But Even with my ineptness I slapped on a belt, and put in my 1911.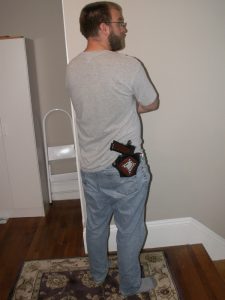 I'm sure veteran belt-toters can point out some tips on how I can do it better, but I must say riding at 4:00 it tucks the gun in nicely but also rides very comfortably.
The pancake design is made for concealment, but I will say it rides lower than most of my shirts and cover coats, but a longer t-shirt or long vest or coat will cover it up, and the flat outside body blends the gun well with the curve of your hip. Still as I prefer to carry concealed in a shoulder rig I'll leave well-enough alone and reserve this gun for open carry. As an open carry holster this fills a void in my collection, as I generally pocket carry which really can't be "Opened", or shoulder carry which I think looks cool open, but I also think my denim jacket looks REALLY cool. With the two-tone leather and the snake skin this holster really begs to be exposed. Coupled with my slick Chip Double-diamond slim grips I have a carry kit not to be covered up! Also the holster gives the gun a slight forward cant which makes for a VERY natural draw. Also the mouth is stiff enugh to allow one-handed re-holstering without muzzling your body. I've seen all the tactical guys do left-handed draws from 4:00, but the cant did make the holster want to retain the gun when drawn from that angle, but possible this could be fixed by wearing the gun slightly further back.
But lets talk about retention: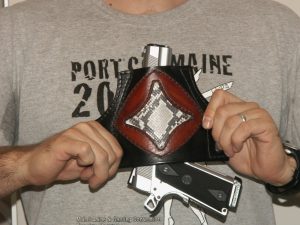 LOOK AT THAT!! That's my Stainless 5″ 1911 (you'll not the open-mouth design allows for Government and Commander 1911s to be used) with a loaded magazine being held up only by the strength of the leather!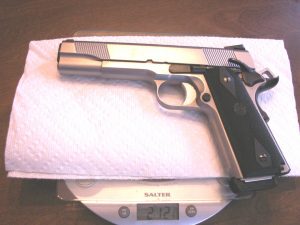 Have a look at that scale readout. 2 pounds, 12 3/8th ounces! (44+ oz for those who read gun magazines!) That is not a light gun. I will also add that a few shakes would not dislodge it, tho some more vigorous agitations I'm sure could. Let's just say the gun is going to stay where you put it, but still allow a smooth draw with a good belt. (I'll note I was using an LL Bean leather belt that measures slightly over 1″, but the loops measure 1.75″ so much wider belts will fit).
This is a great holster, and I must thank Dragon for sending it my way. It looks great, and functions just as well.
If I had to complain I'd suggest something be done to make it ride a little higher so it would conceal better, and put an under-cut near where the grip meets the trigger guard to give a more positive grip on draw, but those are minor quips!
Now I need to find an open carry rally!!